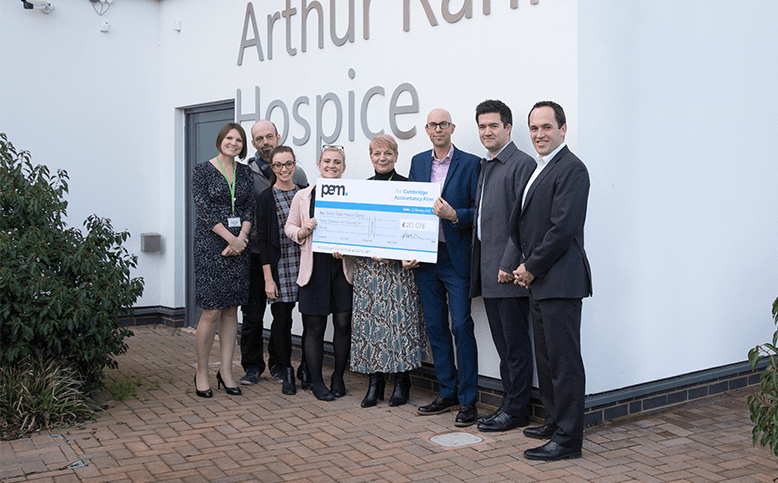 As part of a two year partnership we have surpassed our fundraising target and raised £20,076 for local Arthur Rank Hospice Charity (ARHC).
Across 2017 and 2018 our staff have participated in cycle rides, cake sales, raffles, musical bingo and more to raise money for ARHC, which was nominated by staff to be their charity partner for the two year period.
Our headline fundraising event was the 'Hadrian's Wall Challenge' held in June 2018. Across two days, 29 members of staff completed a 40 mile trek of the famous Hadrian's Wall Path, raising over £12,000 in sponsorship.
On top of this, staff donated more than 100 toiletry items for the Hospices' inpatients and over 40 boxes of donations to their Mill Road shop.
Warren Tilbury, Managing Partner at PEM commented: "I'm delighted that as a firm we have surpassed our fundraising target. Arthur Rank Hospice Charity is close to a lot of hearts at PEM and we wanted to raise as much money as possible to help the charity continue to offer the best care."
Upon receiving the cheque, Andrea Murauskas, Corporate Fundraiser at ARHC said:
"We are delighted to have had the support of PEM for the past two years. It was clear from the start that their mission was to raise as much as possible for the Hospice, but they've exceeded all our expectations by raising a staggering £20,000! We have to thank the staff who've taken on everything from 100 mile cycling challenges like Prudential RideLondon-Surrey, to the Disneyland Paris half marathon, and a wonderful team walk along Hadrian's Wall. They have been incredibly passionate, determined and an honour to work in partnership with. By raising such a brilliant amount of money they have made very real differences to hundreds of people living with a life-limiting illness in Cambridgeshire. Thank you for helping make every moment of this charity of the year partnership count!"
Arthur Rank Hospice Charity provide vital respite and end-of-life care across Cambridgeshire and we are thrilled that their donation will contribute towards the daily running costs of the Hospice.